Creality, a leading manufacturer of 3D printers, is proud to announce the launch of its latest product, the Sermoon D3 Pro. A Reddot winner, this cutting-edge 3D printer is set to revolutionize the industry with its outstanding features and exceptional performance. With its official release, Creality aims to meet the growing demands of professionals and enthusiasts in various sectors.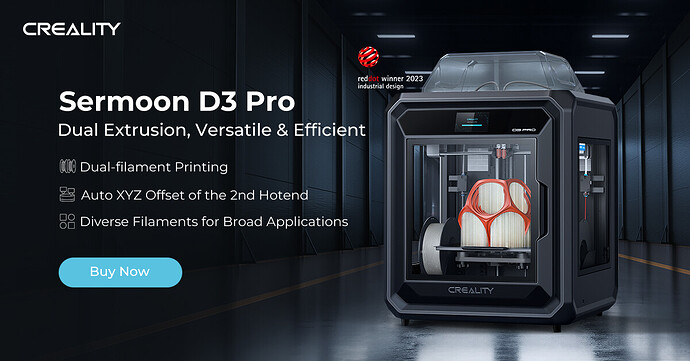 The Sermoon D3 Pro will be available for purchase starting from July 20 through Creality's official online store. Priced competitively at USD 2,999, this innovative 3D printer offers exceptional value for its features and capabilities.
The introduction of Sermoon D3 Pro marks a significant milestone for Creality and the 3D printing industry. According to a report by ResearchAndMarkets, the global 3D printing market reached USD 12.65 billion in 2021 and is predicted to experience a CAGR of 22.6% by 2030. With the increasing popularity and demand for 3D printing solutions, Creality recognizes the need for fast, reliable and high-quality printers. The Sermoon D3 Pro aims to meet these demands and exceed expectations, offering industrial players a truly exceptional 3D print-producing experience.
Key Features and Highlights of Sermoon D3 Pro
Independent Dual Extrusion: the Sermoon D3 Pro boasts independent, easy-to-switch dual nozzles of light-weight, integrated design and efficient, precise movement.

High-temp Printing: with the hardened steel nozzles capable of temperatures up to 300℃, the machine expands the range of printable materials, including high-temperature thermoplastics and engineering-grade filaments.

Creality Cloud App Smart Control: with the integrated Creality Cloud App, users can easily control and monitor their printing progress on Sermoon D3 Pro remotel and manage their prints from anywhere, providing great convenience and flexibility for users.

Air Filtration: the printer incorporates an advanced air purifier to minimize emissions and ensure a clean and safe printing environment. This function is essential for users working in enclosed spaces or sensitive environments.

Auto-Levelling and Auto-Shutdown: the new Creality player is equipped with automatic levelling which keeps the bed level for a long time, removing the need for Z-offset adjustment and ensuring optimal print quality. Additionally, it features an auto-shutdown function, providing energy efficiency and peace of mind.

User-Friendly Design: Sermoon D3 Pro is designed with user convenience in mind, including a built-in toolbox for easy storage of essential tools and accessories. This thoughtful design element enhances the overall user experience and ensures a clutter-free workspace.
Applications and Industry Potential of Sermoon D3 Pro
The Sermoon D3 Pro's versatility and advanced functions make it suitable for various industries and applications ranging from manufacturing to healthcare and architecture. Be it parts and components prototyping, jigs and fixtures making, dental and medical kits producing, or design verification, this 3D printer offers endless possibilities for professionals and businesses.
To explore more about Sermoon D3 Pro and get one, please visit Creality's product page.